The information around IR35 appears mainly biased; either people selling IR35 testing or insurance products, or those who are completely averse to the prospect of the IR35 reform. It is not surprising that everything around the subject is alarmist and highly critical of HMRC, as well as any positive measures they try to put in place. If you are looking to find out more about IR35, and how it may affect you or your business, it is important to have some good, reliable resources to rely on. We have reviewed some of the best IR35 sources which can make a difference.
Tax Centre of Excellence
If you want to find out more about IR35, including guidance for working in the public sector and how HMRC approaches substitution, the Tax Centre of Excellence is a great resource to use. The one issue many contractors and business owners have is that they can't get to grips with the wording used by HMRC, and this offers some useful guidance. It also goes into detail about the question flow of the CEST tool and although it is targeted at public sector clients, it is also relevant for the private sector too. If you need some more information on IR35, this is a resource worth looking into.
OffPayroll.org.uk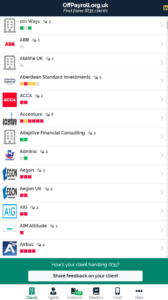 If you would like information on which companies are undertaking fair processes in relation to IR35, and which ones are best avoiding , OffPayroll is the website to utilise. The ratings and feedback are from contractors, so it's based around personal experience, as opposed to just random reviews. With the tagline of 'find fairer IR35 clients', this site aims to make it easier for contractors to find reasonable companies to work with. For example, Barclays seem to have a no assessment attitude to IR35 and are just using the opportunity to end contract work. On the other hand, Equal Experts seem to be doing everything to retain their contractors. This is an excellent reference for contractors who are looking for their next placement. Although a new kid on the block, this IR35 community has ratcheted up thousands of followers already, so probably this isnt as understated any more.
Kingsbridge IR35 hub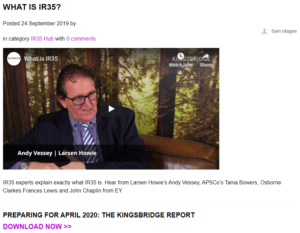 If you feel like you're left alone when it comes to IR35, the Kingsbridge IR35 hub is a resource which will help you feel a bit more involved in a community. This blog has been created by Andy Vessey (ex-QDOS), who is well-known for repeat tribunal wins against HMRC. There are views and videos from Kingsbridge and their wider network of contacts around IR35, together with views from other clients. If you need a reliable source, this is one not to be missed. Kingsbridge also sell an insurance product attuned to the off payroll regulations that can indemnify anyone in the supply chain who the HMRC choose to investigate. We found the views fairly balanced and the site is overall solution-orientated as against problem-fixated.
ContractorX
Substitution is the silver bullet to IR35 defence as courts and tribunals have repeatedly established. It is however, also one fo the weakest links to IR35 defence as clients and contractors do not really engage with substitution in practice. ContractorX is being developed to help clients feel more comfortable with substitution clauses and for contractors to understand the terms of substitution, so they can meet the needs of HMRC. Although a relatively new website, you can pre-register to gain early access to what you can expect from this website in the future. It might just be the game changer that stops the ongoing contractor cull and is not one to ignore for serious contractors. We are proud to be associated with the development of this movement.