In fact, If you do a quick search of the term 'negotiation' on Google it turns out that there are over 650 million articles on negotiations on the internet. If you are searching for practical negotiation skills that work, you may find it difficult to focus on the right advice to give you the results you need!
There are a lot of people who would call themselves negotiators or negotiation experts. With negotiation academies, schools and e-learning courses almost anyone can upskill themselves on negotiation strategy.
With so much information on negotiations already available, I wanted to share with you my personal experience of negotiations that I have been involved in – and the best practices that have been absent in those negotiations.
Now, if I set a goal like that it calls into question my own credibility to talk about the subject!
I happen to be very well-read on the subject of negotiation and have taken an advanced negotiation course called CEDR (Centre for Effective Dispute Resolution). Furthermore, as a commercial professional, I have been involved in my fair share of negotiations!
With that backdrop, here are my three negotiation best practices that are often missed out in real-life negotiations.
This blog post has been repurposed from our podcast episode Negotiation Best Practices That Are Often Missed which can be found here.
Three Negotiation Best Practices Often Missed
Below, I will provide practical negotation skills that are often absent in actual negotiations, but are considered to be best practice.
1) Before anything else, Preparation
Best practice number one that is often absent in actual negotiations is preparation. I think it's fair to say that most people do not prepare enough before negotiations. However, it is not often because they do not have the time to prepare for it, rather it can often be because they do not understand what good preparation entails.
One thing I personally do when I start working with a new client on a situation they are negotiating is to ask a few 'who', 'what', 'why' type questions. For example, I may ask:
Who is it from the other side that is relaying these messages?
What is it the other side wants?
Why is it the other side asks for this?
By asking these questions, what I often realise is my client does not know a lot about what the other side wants from the negotiation and what is actually driving them to the position they are adopting.
Why is preparation important in negotiations?
Preparation is so important in negotiations because if you don't know enough about the other side it's very difficult to strike a bargain where you can give them something they can value highly but doesn't cost a lot for you to give. This is called 'finding coinage' and we'll talk about this later in the blog!
"Without adequate preparation, you cannot haggle anything other than price."
The multiple threads of conversation
The other angle which I would often look at, especially in large negotiations, is that there will be multiple threads of conversations happening between those organisations. It's really about finding out what it is that you are seeking from the negotiation and how much is that ask consistent with everything else that is happening between both organisations at various levels.
In our blog post, Negotiation Tactics Used by Big Corporations, we explore 5 negotiation tactics you are most likely to encounter and explain how these negotiation tactics can be best overcome.
2) Have you considered an alternative to a negotiated outcome?
The second best practice that I often see omitted from negotiations is a consideration of an alternative to a negotiated outcome. Effectively, we don't spend a lot of time considering what will happen if we don't reach a deal and there are two problems about not thinking about this.
Problem 1 – Operational Risk
The first problem is the operational risk of not knowing how things will progress if you don't reach a deal with another party. This is more pertinent in cases where you are engaged with a supplier. For example, if a buyer is engaged with a supplier over the long term and over multiple transactions through the relationship.
Thus, if you don't have an agreement over a particular transaction, you often don't think about what cascading impact that could have on other things that are happening in the relationship.
Problem 2 – Choosing The Right Demeanour
The second problem is that if you do not know what alternatives you have to negotiated outcome you cannot really decide what demeanour you take into the negotiation. Should you be aggressive, collaborative, pull strings to get what you want or make a take it or leave it offer?
I would propose one of the reasons why people don't spend enough time looking at an alternative negotiated agreement is the way they perceive negotiation to be. Often, people can perceive the negotiation process as just being just a process where you aim to shave off a few pennies from a supplier.
That is a narrow-minded and lazy view of negotiations because the ultimate goal of a negotiation is a favourable commercial outcome! And to be able to get a favourable commercial outcome you need to understand what are the alternatives and what they cost if you want to reach a negotiated deal.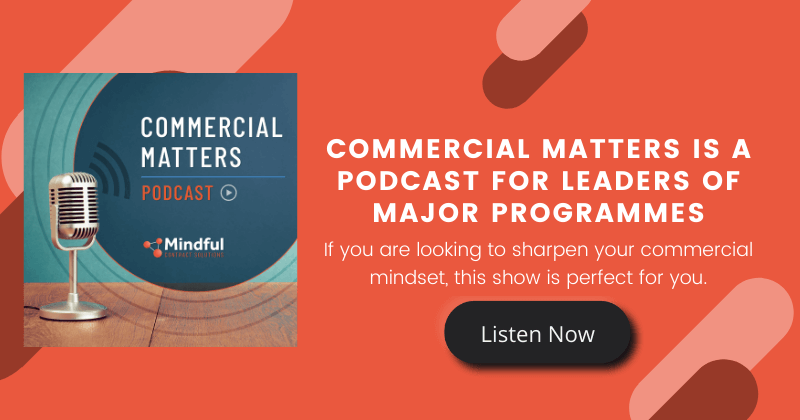 Are you locked in with a supplier?
One of the problems that people often say is the difficulty in finding alternatives to a negotiated outcome when they are locked with a supplier for many years and there is another transaction to be carried out. For any buyer that is a bad place to be!
However, I would suggest that if you look hard enough you will be able to identify alternatives that might be viable. For example, moving things in-house is always an option open to you with the use of contract labour. Furthermore, I would ask you to look at niche firms as an alternative when you can't get your chosen selected System Integrators to deliver a piece of work for you.
Check out our podcast episode, Managing Supplier Relationships – Healthy Supplier Relationships, where we explore the benefits of having a healthy relationship with your suppliers and look at 3 practical tips you can employ.
3) What are the steps in the negotiation process?
The third best practice that I often see absent from negotiations is an understanding of the negotiation process itself. Most organisations I come across tend to think of negotiation as a bidding phase, i.e. the phase in which your trading offers and persuading the other party to accept your offer. As a result, negotiations can be seen as a haggle.
Negotiation has a number of steps and there are two steps in particular that add a lot of value, yet aren't considered often enough: climate setting and finding coinage.
What is climate setting in a negotiation?
Climate setting has nothing to do with climate change and global warming! It is about identifying what demeanour you will take to a negotiating meeting with a supplier. Consideration of climate setting will help you make an informed choice about how you go back to the supplier. For example, do you take an aggressive tone, a more calculated stance, or do you simply delegate this matter to your legal advisers?
Why is finding coinage important in a negotiation?
The second important stage of negotiation is finding coinage. Coinage is the things that don't cost you a lot but are of immense value to the supplier (or the other party). To make the most of this stage you have to have effective preparation done in advance. This is because it is only with effective preparation that you recognise what might be of equal or commensurate value to the other side.
Want to learn more?
If you enjoyed this blog, please feel free to listen to the more in-depth audio version which can be found here.
Every week, we release a new episode of the Commercial Matters Podcast, which is tailor-made for leaders of major transformation programmes.
Hosted by Amit Kapoor, who is a commercial consultant on major transformation programmes, you'll discover how to confidently tackle niggling supplier relationship issues in your IT programmes.
Some of the themes we have touched on are IT disputes, managing supplier relationships and commercial case law.